percept  NIPT
Helping you make informed choices
about your pregnancy
percept is a non-invasive prenatal test (NIPT) that estimates the chance your pregnancy
may have a chromosome condition, such as Down syndrome
5 things to know about
percept

NIPT
percept

NIPT is a screening test that can tell you the chance your pregnancy may have a chromosome condition.

percept

NIPT gives high chance or low chance results. Most women/couples receive a low chance result.

Some women/couples receive high chance results. Further testing will be offered to clarify the result. This is because a high chance result does not mean the baby definitely has the condition.

percept

NIPT does not identify all genetic or chromosome conditions.

All women/couples receiving high chance results have access to genetic counselling through VCGS.
percept

NIPT looks at a wider range of chromosome conditions
Suitable for all women, regardless of age.
Time

3-5 working days from when the laboratory receives your sample

Sample Collected Time

Sample collected after 10 weeks in pregnancy

Chromosomes

Looks for conditions across all 23 chromosome pairs
Is
percept

NIPT right for me?
Like all prenatal screening tests, NIPT is optional. Some women/couples want this information during their pregnancies.
Others do not. It is a personal choice.
Here are some points to help you think about your feelings and views on this test. It may help to discuss these with your
partner (or doctor) before having screening.
Step 1

Talk to your doctor about percept NIPT.

If appropriate, they will complete a test request form.

Step 2

Have your blood taken after 10 weeks.

Step 3

Most results will be available from your doctor within 3-5 working days from the time the lab receives your sample.

VCGS cannot give test results to you directly.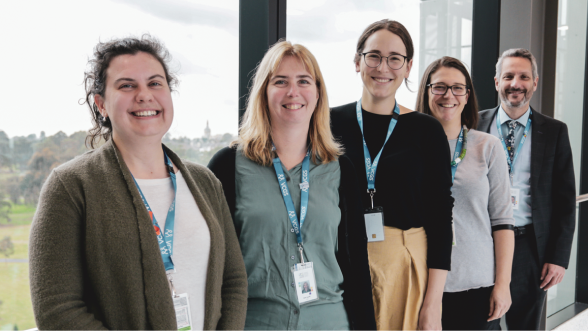 Our expert team is here to help you with any questions about
percept

NIPT.